Hip Arthroscopy
Hip arthroscopy is a cutting-edge area of orthopedic surgery. Arthroscopic surgery of the hip is performed through tiny poke-hole (portal) incisions using a camera to view inside the hip joint. A variety of instruments are used to repair, debride or reconstruct a torn labrum, repair or debride injured cartilage and soft tissues, remove bone spurs, and remove excess bone to re-shape the hip. Many people with long-standing hip problems or injuries are candidates for hip arthroscopy.
Know More
CONDITIONS TREATED
Hip, Groin, Buttock Pain
Labral Tears
Femoroacetabular Impingement
Snapping Hip
Hip Dysplasia
Gluteus Medius Tendon Tears
Trochanteric Bursitis
Avascular Necrosis of the Hip
Know More
Triangle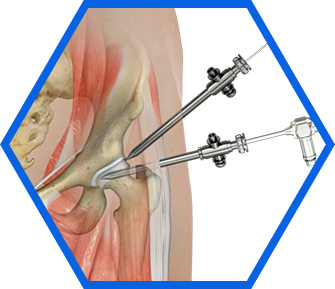 ADVANTAGES OF HIP ARTHROSCOPY
Smaller Incisions
Less Pain
Faster Recovery
Lower Infection Rate
Less Scarring
Earlier Mobilization
Shorter Hospital Stay
Know More
Triangle
Mufaddal M. Gombera, MD
Orthopedic Surgeon at Fondren Orthopedic Group
Dr. Gombera is a board certified orthopedic surgeon practicing in Houston, TX. He is the Director of the Hip Preservation Center at Texas Orthopedic Hospital. He is sports fellowship trained and specializes in sports medicine and arthroscopy. He has a special focus in hip arthroscopy and hip preservation, and works with a multidisciplinary team to treat patients with hip pain.
Dr. Gombera discusses Hip Arthroscopy for labral tears and FAI